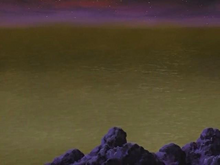 O Aqueronte é um dos rios do Mundo dos Mortos, que separa a porção inicial do Inferno do restante. É um rio tão largo que parece um mar quando visto da margem; a única forma de atravessá-lo é na barca do ganancioso barqueiro Caronte, que cobra pagamento pela travessia.
Ad blocker interference detected!
Wikia is a free-to-use site that makes money from advertising. We have a modified experience for viewers using ad blockers

Wikia is not accessible if you've made further modifications. Remove the custom ad blocker rule(s) and the page will load as expected.