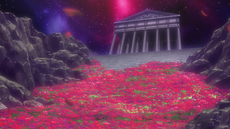 A Barreira de Rosas é o último obstáculo do Zodíaco de Ouro, situado entre a Casa de Peixes e o Palácio do Grande Mestre. Trata-se de um mar de Rosas Demoníacas Reais cobrindo a maior parte da escadaria final do Santuário, a fim de neutralizar invasores que de alguma forma tenham passado por todos os Cavaleiros de Ouro.
Artigos relacionados
Ad blocker interference detected!
Wikia is a free-to-use site that makes money from advertising. We have a modified experience for viewers using ad blockers

Wikia is not accessible if you've made further modifications. Remove the custom ad blocker rule(s) and the page will load as expected.