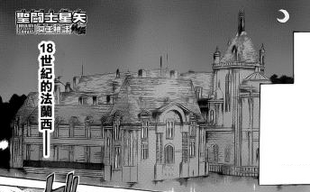 Mansão de Vouivre
ヴイーブルの屋敷
Vīburu no Yashiki
Dados gerais
Divindade
Nenhuma
Dirigente
Garnet
Localização
França
Estreia
Capítulo 19

*
O Castelo de Garnet é uma larga propriedade na França pertencente a Garnet e sua família.[1]
Habitantes
Mitologia, alusões e curiosidades
A arquitetura do castelo de Garnet pode ter sido inspirada no Château de Chantilly.
Bibliografia
Artigos relacionados
Informação pendente.
Links externos
Referências
↑ The Lost Canvas: Gaiden - Capítulo 19.
Ad blocker interference detected!
Wikia is a free-to-use site that makes money from advertising. We have a modified experience for viewers using ad blockers

Wikia is not accessible if you've made further modifications. Remove the custom ad blocker rule(s) and the page will load as expected.