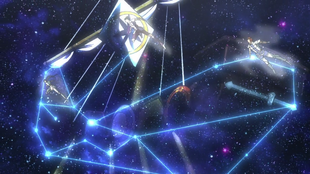 Dados
Latim
Argo Navis
Japonês
アルゴ座 (Arugo-za)
Grego
Αργώ
Navio Argo (Argo Navis) é uma constelação extinta. Encontra-se atualmente dividida em quatro constelações menores: Quilha, Velame, Popa e Bússola.
História
Origem
Informação pendente.
Simbolismo
Informação pendente.
Representantes conhecidos
O Navio Argo está dividido entre três constelações: Quilha, Velame e Popa, mais a adição da constelação de Bússola, que por sua proximidade com as três anteriores também é considerada um componente adicional do barco. Tecnicamente, qualquer um que traje as Armaduras representando essas constelações, também estará representando o Navio Argo. Isso é constatado em The Lost Canvas, onde os aprendizes de El Cid de Capricórnio — Tsubaki de Velame, Lacaille de Popa e Rusk de Bússola — possuem uma técnica combinada com o nome de Howling Argo, em homenagem à constelação.
Curiosidades
Em Saint Seiya Omega, o Cavaleiro de Bronze da constelação de Peixe-Voador se chama Argo, em homenagem ao navio. A razão para a escolha desse nome é devido ao fato de que antigos mapas celestes costumavam representar as constelações do Peixe-Voador e do Navio Argo sempre próximas uma da outra. Com a divisão do Argo em constelações menores, Peixe-Voador ficou próximo à Quilha, que representa a base do navio.
Galeria
Informação pendente.
Bibliografia
Artigos relacionados
Informação pendente.
Ligações externas
Informação pendente.
Referências
Informação pendente.
Ad blocker interference detected!
Wikia is a free-to-use site that makes money from advertising. We have a modified experience for viewers using ad blockers

Wikia is not accessible if you've made further modifications. Remove the custom ad blocker rule(s) and the page will load as expected.