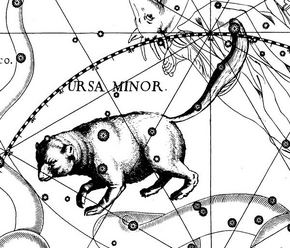 Dados
Latim
Ursa Minor
Japonês

こぐま座(小熊座)

Grego
Μικρά Άρκτος
Ursa Menor (Ursa Minor) é uma constelação boreal. Não se sabe ainda com precisão qual patente de Armadura a constelação ocupa no exército dos Cavaleiros de Atena.
Nas tradições de Asgard, a Ursa Menor também é dotada de um importante simbolismo. Polaris, a estrela mais brilhante da constelação, representa Hilda, a governante dessas terras gélidas.
Representantes conhecidos
Cavaleiros de Atena
Na cultura de Asgard
Ad blocker interference detected!
Wikia is a free-to-use site that makes money from advertising. We have a modified experience for viewers using ad blockers

Wikia is not accessible if you've made further modifications. Remove the custom ad blocker rule(s) and the page will load as expected.