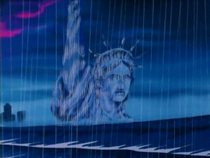 O Dilúvio é uma poderosa tempestade divina, cujo volume de chuvas incessantes é o suficiente para destruir o mundo por inundação. Poseidon mais de uma vez usou seu cosmo divino para provocar o Dilúvio a fim de eliminar os seres humanos da face terrestre.
Efeitos
Informação pendente.
Histórico
Era mitológica
Centenas de anos antes da Batalha do Mediterrâneo no Século XX, o Deus dos Mares já havia provocado um monstruoso dilúvio que inundou toda a Terra, poupando apenas Noé e sua arca da morte, fato esse que salvou toda a biodiversidade terrestre da extinção.
Século XX
Nos quatro cantos do mundo sucediam assustadoras catástrofes e maremotos. Após árduas batalhas no Reino Submerso, Atena finalmente triunfa juntamente aos seus Cavaleiros. Com a fúria de Poseidon controlada, o Sol volta a reaparecer e a maré que ameaçavam varrer a superfície planetária, volta aos níveis normais.
Mitologia, alusões e curiosidades
Na mitologia grega, Poseidon teria provocado um dilúvio a pedido de Zeus, que desejava acabar com a humanidade por esta ter aceito o fogo que Prometeu havia roubado do Monte Olimpo.
Bibliografia
Artigos relacionados
Poseidon - o deus responsável pela ocorrência do Dilúvio.
Grande Eclipse - assim como o Dilúvio, é uma anomalia da natureza criada por um deus para destruir a humanidade.
Links externos
Referências
Informação pendente.
Ad blocker interference detected!
Wikia is a free-to-use site that makes money from advertising. We have a modified experience for viewers using ad blockers

Wikia is not accessible if you've made further modifications. Remove the custom ad blocker rule(s) and the page will load as expected.