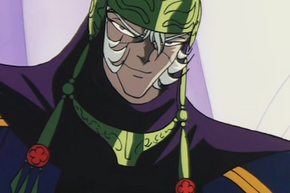 Dados gerais
Classe
Sacerdote de Odin
Dados básicos
Gênero
Masculino
Terra-natal
Asgard
Dados de treinamento
Local
Desconhecido
Durbal é o representante do deus Odin em Asgard durante os eventos do filme A Ardente Batalha dos Deuses. Conta com um grupo de Guerreiros-Deuses a sua disposição.
Características
Aparência
Personalidade
Histórico
Habilidades
Combates
Equipamento
Citações
Mitologia, alusões e curiosidades
Seu nome é uma inversão das sílabas de Baldur (também grafado Balder ou Baldr), uma proeminente divindade da mitologia nórdica. Filho de Odin e Frigga, Baldur era tido como o deus da justiça — além de fazer nota da importância deste sacerdote na cultura de Asgard dando-lhe um nome que referencia um deus, o nome invertido simbolicamente anuncia a corrupção e as intenções perversas de Durbal, opondo-se à justiça de Baldur.
Bibliografia
Artigos relacionados
Links externos
Referências
Ad blocker interference detected!
Wikia is a free-to-use site that makes money from advertising. We have a modified experience for viewers using ad blockers

Wikia is not accessible if you've made further modifications. Remove the custom ad blocker rule(s) and the page will load as expected.