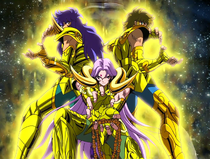 A Exclamação de Atena é uma técnica secreta de poder tão devastador que Atena expressamente proibiu seu uso em batalha. É preciso de uma reunião de três Cavaleiros de Ouro para utilizá-la (embora durante a série tenha sido vista a utilização de ao menos uma técnica bastante similar com a presença de mais de três Cavaleiros de Ouro).
Descrição
Versão normal
Versão máxima
Embora não tenha sido oficialmente nomeada ou identificada, a técnica que reúne os doze Cavaleiros de Ouro para um único ataque é comumente classificada como uma variação máxima da Exclamação de Atena por conta da grande semelhança em requerimentos para execução e em efeito, embora numa escala muito maior.
Histórico
Século XVIII
Século XX
Ad blocker interference detected!
Wikia is a free-to-use site that makes money from advertising. We have a modified experience for viewers using ad blockers

Wikia is not accessible if you've made further modifications. Remove the custom ad blocker rule(s) and the page will load as expected.