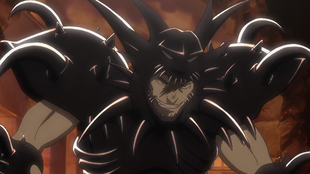 Dados gerais
Classe
Espectro de Hades
Estrela
Estrela Celeste do Crime
Sobrepeliz
Licaonte
Dados básicos
Idade
21 anos
Gênero
Masculino
Altura/Peso
1,89 m / 81 kg
Aniversário
18 de setembro
Sangue
Tipo A
Terra-natal
Região do Rio Orange,
África do Sul
Dados de treinamento
Local
Não houve
Flégias é o Espectro da Estrela Celeste do Crime, vergando a Sobrepeliz de Licaonte. Conduz a jangada que é o único modo de atravessar o Estige, servindo também como guardião da Quarta Prisão do Inferno.
Características
Aparência
Personalidade
Histórico
Século XVIII
Século XX
Habilidades
Golpes secretos
Combates
Sobrepeliz
Citações
Mitologia, alusões e curiosidades
Galeria
Bibliografia
Artigos relacionados
Links externos
Referências
Ad blocker interference detected!
Wikia is a free-to-use site that makes money from advertising. We have a modified experience for viewers using ad blockers

Wikia is not accessible if you've made further modifications. Remove the custom ad blocker rule(s) and the page will load as expected.