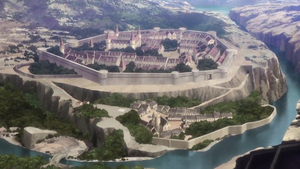 Dados gerais
Divindade
Nenhuma
Dirigente
Desconhecido
Localização
Itália
Estreia
Capítulo 1 / Episódio 1

*
Florença[1] é uma das principais cidades da Itália, sendo capital da região da Toscana. É considerada o berço da Renascença e mundialmente renomada por seus pontos históricos e culturais.
No Século XVIII, Florença teve grande significância para a Guerra Santa, sendo a terra natal de Partita, Alone e Sasha, sendo também o lar de Tenma durante sua infância e parte da adolescência. A porção da cidade próxima ao orfanato onde eles viviam é palco da batalha que inicia oficialmente a Guerra Santa.
Conterrâneos
Mitologia, alusões e curiosidades
Informação pendente.
Dados oficiais
Galeria
Informação pendente.
Bibliografia
Artigos relacionados
Links externos
Referências
↑ Confirmado por Shiori Teshirogi em entrevista feita no evento Cartoonist 2013 em Nice, França.
Ad blocker interference detected!
Wikia is a free-to-use site that makes money from advertising. We have a modified experience for viewers using ad blockers

Wikia is not accessible if you've made further modifications. Remove the custom ad blocker rule(s) and the page will load as expected.