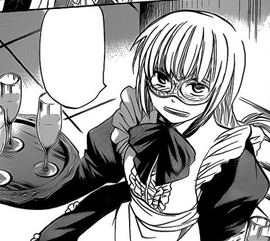 Dados gerais
Classe
Nenhuma
Dados básicos
Gênero
Feminino
Terra-natal
França
Dados de treinamento
Local
Não houve
Dados de anime e mangá
Estreia
Capítulo 19

*
Fluorite é uma jovem criada que trabalha no castelo de Garnet na França. Filha de um renomado novelista que desapareceu nas proximidades do castelo, Fluorite se prestou a servir como empregada para Garnet, enquanto secretamente investigava o paradeiro de seu pai.
Características
Aparência
Informação pendente.
Personalidade
Informação pendente.
Histórico
Informação pendente.
Citações
Informação pendente.
Mitologia, alusões e curiosidades
Fluorite é um mineral cujo nome deriva do latim fluere, referente ao seu processo de fusão muito fácil de ocorrer. A personagem parece ter recebido esse nome apenas para concordar com a temática presente no gaiden de Dégel, onde os personagens são nomeados a partir de compostos minerais.
Dados oficiais
Galeria
Nenhuma imagem disponível.
Bibliografia
Artigos relacionados
Informação pendente.
Links externos
Informação pendente.
Referências
Informação pendente.
Ad blocker interference detected!
Wikia is a free-to-use site that makes money from advertising. We have a modified experience for viewers using ad blockers

Wikia is not accessible if you've made further modifications. Remove the custom ad blocker rule(s) and the page will load as expected.