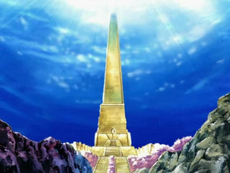 O Grande Pilar Principal, também chamado Pilar da Morte e Lâmina Vencedora, é o sustentáculo do Templo Submarino do Mediterrâneo. É inútil tentar atacá-lo em seu estado natural, sem sobrecarregá-lo com a destruição dos demais Pilares do Oceano, e, ainda assim, é uma tarefa dificílima investir contra ele, visto que é virtualmente indestrutível.
O Pilar também serve como uma prisão e uma câmara de execução, visto que é uma estrutura oca cujo interior pode ser preenchido de água ao bel-prazer de Poseidon.
Ad blocker interference detected!
Wikia is a free-to-use site that makes money from advertising. We have a modified experience for viewers using ad blockers

Wikia is not accessible if you've made further modifications. Remove the custom ad blocker rule(s) and the page will load as expected.