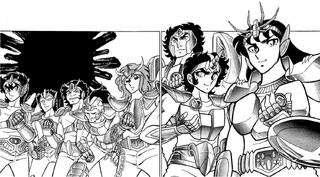 A Guerra Galáctica é um torneio organizado pela Fundação Graad reunindo como competidores todos os órfãos sob sua tutela que retornaram vitoriosos de seus treinamentos como Cavaleiros de Bronze.
A competição foi sediada no Coliseu Graad em Tóquio e o prêmio prometido ao vencedor do torneio foi a Armadura de Ouro de Sagitário.
Curiosidades
De acordo com a edição do dia fictícia do jornal Tokyo News, exibida para o leitor no capítulo de estreia do torneio, a Guerra Galáctica teve seu início na quarta-feira 10 de setembro de 1986.

Na segunda versão do período de acontecimento da série clássica, fornecida por alguns materiais promocionais e Next Dimension, é possível que o torneio tenha começado na segunda-feira 10 de setembro de 1990. Com o conflito de fontes oficiais, é impossível precisar a data correta.

Repórteres das emissoras de televisão BBC (Londres), ABC (Estados Unidos) e KRY (Yamaguchi) podem ser vistos entre os jornalistas fazendo a cobertura da Guerra Galáctica no mangá.
Ad blocker interference detected!
Wikia is a free-to-use site that makes money from advertising. We have a modified experience for viewers using ad blockers

Wikia is not accessible if you've made further modifications. Remove the custom ad blocker rule(s) and the page will load as expected.