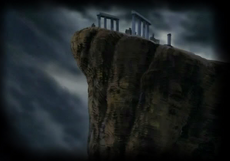 A Guerra Santa da Ática foi um embate travado entre Atena e Poseidon, tendo acontecido cerca de dois mil anos antes da Batalha do Mediterrâneo no Século XX.
Não há muitas informações acerca do conflito que teve lugar na península da Ática na Grécia. Na época em que a guerra aconteceu, o Cabo Súnion pertencia a Poseidon e seus calabouços eram usados como prisão para os inimigos de guerra derrotados; as paredes e grades eram indestrutíveis e não havia saída, de modo que todos os prisioneiros acabavam morrendo por afogamento com a subida da maré que inundava as celas.
Com o fim da guerra e a vitória de Atena, o domínio do Cabo Súnion foi reclamado pela deusa; a prisão se manteve desativada por milênios e sua única utilização conhecida após o confronto foi uma intervenção ilegal de Saga de Gêmeos, que pretendia punir e matar seu irmão subversivo.
A alma de Poseidon foi selada na Ânfora de Atena, recolhida e guardada em Atlântida juntamente com as Escamas de seus Generais Marinas, para serem vigiadas pelo povo de Bluegrad; após o incidente ocorrido na Guerra Santa do Século XVIII, contra Hades, os artefatos acabaram indo parar no Templo Submarino do Mediterrâneo, onde viriam a ser encontrados por Kanon apenas no Século XX.
Ad blocker interference detected!
Wikia is a free-to-use site that makes money from advertising. We have a modified experience for viewers using ad blockers

Wikia is not accessible if you've made further modifications. Remove the custom ad blocker rule(s) and the page will load as expected.