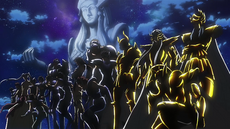 A Guerra Santa do Século XVI foi um embate travado entre Atena e Hades, notável por se equiparar em violência e baixas a sua sucessora no Século XVIII, citada como uma das mais difíceis já lutadas por Atena.
Histórico
Guerreiros
Atena
Cavaleiros de Atena
Hades
Espectros de Hades
Galeria
Referências
Ad blocker interference detected!
Wikia is a free-to-use site that makes money from advertising. We have a modified experience for viewers using ad blockers

Wikia is not accessible if you've made further modifications. Remove the custom ad blocker rule(s) and the page will load as expected.