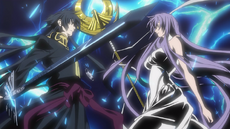 A Guerra Santa do Século XVIII foi um embate travado entre Atena e Hades, renascidos na Terra como os irmãos Sasha e Alone. É tida como uma das mais duras e violentas de todas as guerras, resultando num número absurdamente reduzido de sobreviventes.
Como sempre ocorre nas guerras contra Hades, o Cavaleiro de Bronze de Pégaso é uma peça importante: Tenma é um amigo de infância de Alone e Sasha.
Período Pré-Guerra
Batalha de Florença: A Guerra Santa Começa
Investida dos Espectros
Invasão de Minos
Mokurenji e Rosário
Ataque de Kagaho
Invasão de Hades e Pandora
Jornada à Catedral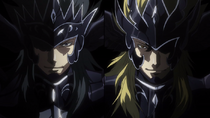 Barreira de Thanatos
Barreira de Hypnos
Barreira de Hades
Rumo à Batalha Decisiva
Busca pelo Oricalco
Barco de Atena no Himalaia
Viagem ao Lost Canvas
Batalha pela Armadura de Atena
Batalha do Lost Canvas
Adeus no Mar de Nuvens
Batalhas contra os Guardiões das Estrelas
Marte: Defteros VS Aspros
Aspros VS Alone e Yohma
Mercúrio: Tenma e Sasha VS Yohma
Vênus: Shion VS René
Terra: Dohko VS Kagaho
Saturno: Primeira Parte
Valentine VS Pandora e Radamanthys
Confronto dos grupos inimigos
Urano: Tenma VS Partita
Saturno: Segunda Parte
Regulus VS Radamanthys
Confronto com Alone
Aspros VS Yohma
Reta final
Tenma VS Alone
Shion e Dohko VS Hades
Plutão: Tenma, Sasha e Alone VS Hades
Pós-Guerra
Ad blocker interference detected!
Wikia is a free-to-use site that makes money from advertising. We have a modified experience for viewers using ad blockers

Wikia is not accessible if you've made further modifications. Remove the custom ad blocker rule(s) and the page will load as expected.