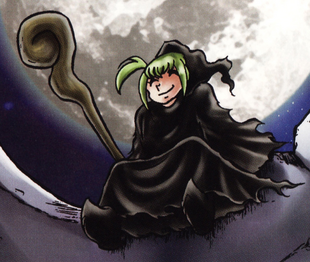 Dados gerais
Classe
Feiticeira
Dados básicos
Idade
Milenar
Gênero
Feminino
Dados de treinamento
Local
Não houve
Hécate, a Bruxa da Lua (月の魔女ヘカーテ, Tsuki no Majo Hekāte), é uma poderosa feiticeira e conterrânea dos domínios de Artemis.
Características
Aparência
Informação pendente.
Personalidade
Informação pendente.
Histórico
Informação pendente.
Interações
Informação pendente.
Habilidades
Não muito se sabe sobre os poderes de Hécate. Dentre as habilidades demonstradas pela feiticeira estão a de assumir a forma de um corvo e criar encruzilhadas para confundir visitantes indesejados que tentem chegar ao palácio de Artemis. Não se sabe se Hécate tem acesso ao domínio do cosmo. Ao seu favor, Hécate dispõe de vastos conhecimentos, provenientes de sua vida longeva.
Citações
Informação pendente.
Mitologia, alusões e curiosidades
Na mitologia grega, Hécate (Εκάτη; escrita Ekáti e pronúncia Hekátē) é a deusa da bruxaria, da lua e das encruzilhadas. É prima da deusa Ártemis, e ambas são netas da Titânide Febe, também associada à lua.
Apesar da personagem de Next Dimension seguir fielmente os simbolismos associados à Hécate mitológica, não se sabe se ela é de fato a deusa da bruxaria ou apenas uma humana com poderes mágicos.
Bibliografia
Artigos relacionados
Informação pendente.
Ligações externas
Informação pendente.
Referências
Informação pendente.
Informação pendente.
Ad blocker interference detected!
Wikia is a free-to-use site that makes money from advertising. We have a modified experience for viewers using ad blockers

Wikia is not accessible if you've made further modifications. Remove the custom ad blocker rule(s) and the page will load as expected.