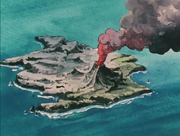 A Ilha de Andrômeda é uma ilha vulcânica situada no Oceano Índico, adjacente às costas da Somália e Etiópia. Por conta de sua localização próxima à Linha do Equador, este local é submetido a variações extremas de temperatura entre o dia e a noite, sendo um ambiente árido e desfavorável à vida.
Treinamento
Treinaram na Ilha de Andrômeda, em ordem alfabética:
Cronologia principal
Realidades alternativas
Ad blocker interference detected!
Wikia is a free-to-use site that makes money from advertising. We have a modified experience for viewers using ad blockers

Wikia is not accessible if you've made further modifications. Remove the custom ad blocker rule(s) and the page will load as expected.