Se você procurava esse personagem antes dos eventos de Saint Seiya Omega, veja Jabu de Unicórnio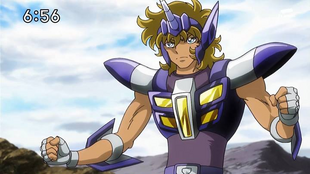 Dados básicos
Idade
38 anos ou mais
Gênero
Masculino
Aniversário
3 de novembro
Sangue
Tipo B
Terra-natal
Japão
Dados de treinamento
Local
Orã, Argélia
Dados de anime e mangá
Estreia
Episódio 23

*

Seiyuu

*

Takeshi Kusao
Jabu foi o Cavaleiro de Bronze da Constelação de Unicórnio durante o Século XX, Jabu agora se encontra numa vida de paz, afastado dos combates e vivendo em seu próprio rancho, Para repor sua Armadura de Bronze, Jabu agora traja uma réplica de Aço nos mesmos moldes da original.
Características
Aparência
Informação pendente.
Personalidade
Informação pendente.
Interações
Informação pendente.
Citações
Informação pendente.
Perfil oficial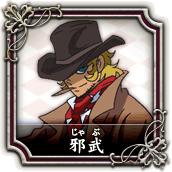 一角獣座ことユニコーンの青銅聖闘士。過去には星矢と共に、聖戦を戦った伝説の聖闘士の一人。アテナの化身である城戸沙織への忠誠心は厚い。現在は戦いから身を遠ざけて、牧場で大好きな馬たちと共に静かな生活を送っている。 しかし、戦うことへの迷いが生じた蒼摩と出会い、聖闘士としての手ほどきをすることになる。
(声:草尾毅)
Informação pendente.
Fonte: Site oficial da Toei Animation
Tradução pendente.
Bibliografia
Artigos relacionados
Sohma de Lionet - a quem Jabu treinou temporariamente, a pedido do próprio Sohma.
Links externos
Referências
Informação pendente.
Ad blocker interference detected!
Wikia is a free-to-use site that makes money from advertising. We have a modified experience for viewers using ad blockers

Wikia is not accessible if you've made further modifications. Remove the custom ad blocker rule(s) and the page will load as expected.