Armadura de Bronze
Artigo principal: Constelação de Unicórnio
Jabu é portador da Armadura de Bronze que representa a Constelação de Unicórnio (Monoceros).
A Armadura de Unicórnio é uma das 88 do exército dos Cavaleiros de Atena. Ela representa o mesmo animal que lhe dá o nome quando está em repouso. Por ser uma Armadura de Bronze, congela a -150 ºC e limita-se a proteger alguns pontos vitais do corpo de Jabu.
Armadura de Aço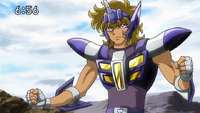 No Opening, Senkô Strings, Para repor sua Armadura de Bronze, Jabu agora traja uma réplica de Aço nos mesmos moldes da original.
Informação pendente.
Ad blocker interference detected!
Wikia is a free-to-use site that makes money from advertising. We have a modified experience for viewers using ad blockers

Wikia is not accessible if you've made further modifications. Remove the custom ad blocker rule(s) and the page will load as expected.