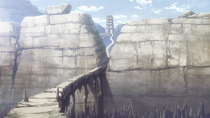 Jamir (também conhecida como Jammu) é uma região montanhosa situada na cordilheira do Himalaia, na fronteira entre Índia, China e Paquistão. Desde épocas imemoriais, essa região isolada tem sido território dos Cavaleiros de Atena e seus aliados, geralmente ocupado por descendentes do povo de Mu.
Treinamento
Treinaram em Jamir, em ordem alfabética:
Cronologia principal
Realidades alternativas
Ad blocker interference detected!
Wikia is a free-to-use site that makes money from advertising. We have a modified experience for viewers using ad blockers

Wikia is not accessible if you've made further modifications. Remove the custom ad blocker rule(s) and the page will load as expected.