Se você procurava a obra de Shiori Teshirogi, veja Saint Seiya: The Lost Canvas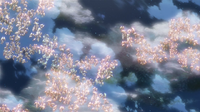 O Lost Canvas (literalmente Quadro Perdido ou Tela Perdida) é o elemento em torno do qual gira a maior parte da Guerra Santa do Século XVIII.
Trata-se de uma pintura criada por Alone, o humano escolhido como corpo de Hades; usando-se de sua habilidade de matar instantaneamente tudo aquilo o que retrata em suas pinturas, Alone iniciou uma obra representando toda a vida no planeta, a fim de erradicar tudo aquilo que vive e selar as almas de todos os seres humanos. À medida que é pintado, o Lost Canvas materializa-se em proporções colossais no céu.
Graças a sua materialização, o próprio Lost Canvas no céu é usado como base por Alone, Pandora e os Espectros durante a etapa final da guerra.
Propriedades
Histórico
Locais
Portão
Mar de Nuvens
Templos Demoníacos
Artigo principal: Templos Demoníacos
Os Templos Demoníacos são casas guardadas por Espectros conhecidos como Guardiões das Estrelas, cujo poder rivaliza com o dos Juízes dos Mortos. Conectados por uma escadaria enorme e incrustados na espiral da pintura que leva até o castelo de Alone, os Templos Demoníacos desempenham um papel similar ao Zodíaco de Ouro no Santuário. Conhecendo seus adversários, Alone preparou um caminho que os fizesse sofrer física, emocional e psicologicamente.
Relógio Estelar
Ad blocker interference detected!
Wikia is a free-to-use site that makes money from advertising. We have a modified experience for viewers using ad blockers

Wikia is not accessible if you've made further modifications. Remove the custom ad blocker rule(s) and the page will load as expected.