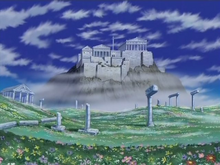 O Mausoléu de Hades é uma imensa estrutura localizada no Elíseos, em cuja porção central se localiza a cripta onde o deus Hades mantém seu corpo verdadeiro em repouso desde a era mitológica, a fim de deixá-lo em completa segurança até que ele vença uma Guerra Santa.
É especialmente notável por ser o palco da batalha final dos eventos do Século XX, e do milenar embate entre Hades e Atena.
Ad blocker interference detected!
Wikia is a free-to-use site that makes money from advertising. We have a modified experience for viewers using ad blockers

Wikia is not accessible if you've made further modifications. Remove the custom ad blocker rule(s) and the page will load as expected.