Medusa
Líder das Górgonas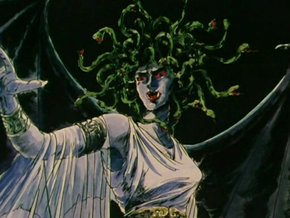 Dados gerais
Classe
Monstro
Categoria
Górgona
Dados básicos
Idade
Milenar
Gênero
Feminino
Terra-natal
Grécia
Dados de treinamento
Local
Não houve
Medusa é um monstro mitológico grego, notável por sua aparência: uma mulher com cabelo de cobras, bem como por seu poder de petrificar. Era a líder das Górgonas, figuras com aparência e poderes semelhantes aos seus.
Depois de fazer várias vítimas, foi derrotada pelo herói Perseu.
Ad blocker interference detected!
Wikia is a free-to-use site that makes money from advertising. We have a modified experience for viewers using ad blockers

Wikia is not accessible if you've made further modifications. Remove the custom ad blocker rule(s) and the page will load as expected.