Miller
Luva "Alchemy Glove"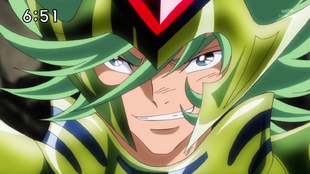 Dados básicos
Gênero
Masculino
Dados de treinamento
Local
Desconhecido
Miller é um Palasito de classe desconhecida, tão poderoso quanto um Cavaleiro de Ouro. Não segue as ordens dos Quatro Grandes e luta por interesse próprio. Sua arma é uma Luva de nome Alchemy Glove, que tem a reputação temível de poder quebrar Armaduras com facilidade.
Características
Aparência
Informação pendente.
Personalidade
Informação pendente.
Interações
Informação pendente.
Citações
Informação pendente.
Perfil oficial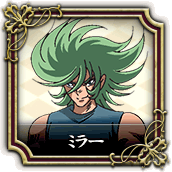 ミラー
自らの階級に興味のない風変わりなパラサイト。錬金術の名を冠する聖衣破壊に秀でた武器、アルケミーグローブを腕に装備する。四天王の招集にも応じないが、戦場にふらりと現れ、聖闘士達を撃破、破壊した聖衣の聖衣石をコレクションする。闘いをゲームとして楽しんでおり、スリルを味わうためにあえてクロノテクターをまとわずに闘う。タイタンをして「戦局を大きく動かす力をもつ」と言わしめる実力者。
Miller
Palasito excêntrico que não tem interesse em sua própria classe. Seu braço está equipado com a Alchemy Glove, uma arma que leva o nome da alquimia e destaca-se destruindo as Armaduras Sagradas. Não responde às convocações dos Quatro Grandes, mas aparece inesperadamente no campo de batalha para esmagar os Cavaleiros, colecionando as Gemas das Armaduras destruídas. Tem se divertido com as lutas como se fosse um jogo, ousando lutar sem vestir a Chronotector para saborear a sensação de perigo. É alguém poderoso a quem Titan refere-se dizendo "ter o poder para mudar drasticamente a situação da guerra".
Fonte: Site oficial da Toei Animation
Bibliografia
Artigos relacionados
Informação pendente.
Links externos
Referências
↑ Como revelado nos créditos do episódio 70 de Omega.
Ad blocker interference detected!
Wikia is a free-to-use site that makes money from advertising. We have a modified experience for viewers using ad blockers

Wikia is not accessible if you've made further modifications. Remove the custom ad blocker rule(s) and the page will load as expected.