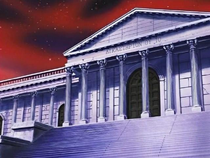 A Morada do Juízo, também conhecida como Primeira Prisão e Tribunal Silencioso, é a corte do Mundo dos Mortos, à qual todas as almas devem se apresentar ao morrer. É a primeira construção localizada após o Aqueronte, servindo também como primeiro posto de guarda dos Espectros no Inferno.
O tribunal, presidido por Minos de Grifo, analisa os pecados e os feitos de vida de cada alma, decidindo a porção do Inferno que mais se adequa a elas — ou, em casos raríssimos, sua liberação para o Elíseos.
Ad blocker interference detected!
Wikia is a free-to-use site that makes money from advertising. We have a modified experience for viewers using ad blockers

Wikia is not accessible if you've made further modifications. Remove the custom ad blocker rule(s) and the page will load as expected.