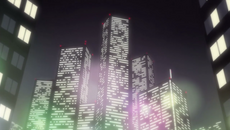 Nova York (New York City) é a capital do estado de mesmo nome nos Estados Unidos.
Histórico
Cronologia principal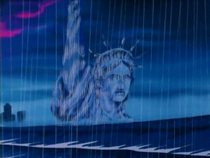 Século XX
Nova York é uma das cidades arruinadas pelo Dilúvio criado por Poseidon. Em apenas duas semanas após o despertar de Julian Solo como hospedeiro do deus dos mares, a violência dos mares atacando a costa leste dos Estados Unidos fez mais de cinquenta mil vítimas.
A chuva se abranda durante a Batalha do Mediterrâneo, enquanto Atena se oferece como sacrifício para receber todo o volume de água que estava destinado à Terra; com o fim da batalha, resultando na destruição do Templo Submarino do Mediterrâneo e a vitória da deusa sobre Poseidon, que terminou aprisionado na Ânfora Sagrada, o Dilúvio finalmente teve fim, permitindo que o nível dos mares voltasse ao normal e as cidades engolidas pelas águas lentamente voltassem ao normal, possibilitando que se reconstruíssem.
Realidades alternativas
Século XXI
No Século XXI como apresentado em Saint Seiya Omega, Nova York conseguiu se reerguer após a catástrofe.
Conterrâneos
Ad blocker interference detected!
Wikia is a free-to-use site that makes money from advertising. We have a modified experience for viewers using ad blockers

Wikia is not accessible if you've made further modifications. Remove the custom ad blocker rule(s) and the page will load as expected.