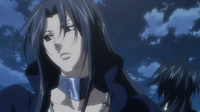 Pandora é a "encarregada de espalhar o mal pelo mundo". Ela está sempre ao lado de Hades, escolhe seu hospedeiro e é a comandante-geral dos 108 Espectros, tendo portanto o poder de controlar as tropas de Hades - com exceção de Thanatos e Hypnos; sendo deuses, eles estão hierarquicamente acima de Pandora.
Assim como a deusa Atena, Pandora renasce na Terra com corpo e alma verdadeiros sempre que uma Guerra Santa está prestes a começar.
Duas vidas de Pandora foram apresentadas:
Ad blocker interference detected!
Wikia is a free-to-use site that makes money from advertising. We have a modified experience for viewers using ad blockers

Wikia is not accessible if you've made further modifications. Remove the custom ad blocker rule(s) and the page will load as expected.