Dados gerais
Classe
Nenhuma
Dados básicos
Gênero
Masculino
Dados de treinamento
Local
Não houve
Dados de anime e mangá
Estreia
Episódio 16

*

Seiyuu

*

Hiroshi Naka
Paulo[1] é um senhor que se prontifica a fornecer um barco para que o grupo de Kouga de Pégaso alcance o Núcleo do Fogo, em troca do auxílio dos jovens nos serviços da pousada "Paulo e Ann", gerenciada por ele e sua esposa.
Características
Aparência
Informação pendente.
Personalidade
Informação pendente.
Histórico
Informação pendente.
Citações
Informação pendente.
Mitologia, alusões e curiosidades
Informação pendente.
Dados oficiais
Galeria
Tradução do perfil oficial de Paulo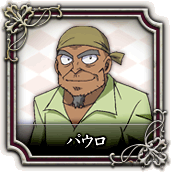 海沿いの観光地で、ペンション「パウロ&アン」を営んでいる。 その昔は漁師として活躍していたこともあり、船の扱いはお手の物。最近は年を取った こともあり、妻と二人で経営するペンションが大忙しになると、アルバイトを雇ってやりくりしている。
(声:中博史)
Tradução pendente.
Bibliografia
Artigos relacionados
Informação pendente.
Links externos
Referências
↑ Como revelado primeiramente nos créditos do episódio 16 de Omega. Posteriormente confirmado também no perfil oficial do personagem.
Ad blocker interference detected!
Wikia is a free-to-use site that makes money from advertising. We have a modified experience for viewers using ad blockers

Wikia is not accessible if you've made further modifications. Remove the custom ad blocker rule(s) and the page will load as expected.