Pegasus Fantasy (ver. Omega)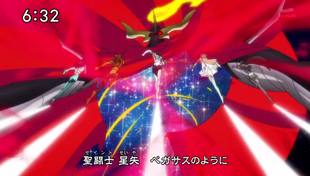 Pegasus Fantasy (ver. Omega) (ペガサス幻想 ver.Ω), interpretada por Shoko Nakagawa e Make-Up, é o primeiro tema de abertura de Saint Seiya Omega, cobrindo as aventuras que precedem a Batalha da Torre de Babel. Não foi acompanhada por nenhum tema de encerramento.
Deu lugar a Next Generation com o início do confronto contra os novos Cavaleiros de Ouro.
Animação
Informação pendente.
Personagens
Ad blocker interference detected!
Wikia is a free-to-use site that makes money from advertising. We have a modified experience for viewers using ad blockers

Wikia is not accessible if you've made further modifications. Remove the custom ad blocker rule(s) and the page will load as expected.