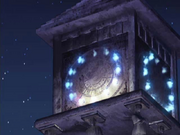 O Relógio de Fogo é uma gigantesca torre de relógio feita de pedra, que pode ser vista de quase todo o território do Santuário. No topo da torre, há quatro relógios idênticos e ricamente decorados, um em cada face da construção.
Sempre que o relógio é ativado, doze chamas são acesas em cada um dos relógios, cada uma num espaço do disco que representa uma das constelações do zodíaco do sol, de Áries a Peixes. A chama de Áries se apaga uma hora após o relógio ter sido aceso, a de Touro uma hora após a de Áries ter se apagado, e assim por diante, de modo que após doze horas, a última chama do relógio se apaga.
Mitologia, alusões e curiosidades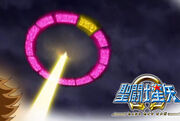 Existe um mecanismo bastante similar ao Relógio de Fogo na Torre de Babel em Omega, chamado Anel do Tempo. Nele, surge no céu um contador luminoso dividido em doze seções. O contador inicialmente tem um tom forte de rosa, e as seções mudam para a cor amarela uma por uma a cada hora que passa, durando uma hora inteira nessa coloração e por fim se apagando.
Ad blocker interference detected!
Wikia is a free-to-use site that makes money from advertising. We have a modified experience for viewers using ad blockers

Wikia is not accessible if you've made further modifications. Remove the custom ad blocker rule(s) and the page will load as expected.