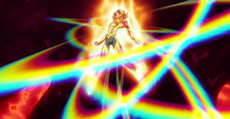 O Sétimo Sentido denota o acesso à profunda essência do cosmo, conferindo a seu usuário um vasto aumento de todos os seus poderes. O pleno domínio do Sétimo Sentido é um dos requisitos básicos para a nomeação de um Cavaleiro de Ouro.
Embora os dois conceitos sejam muitas vezes confundidos, é possível se valer do cosmo sem jamais alcançar o Sétimo Sentido, bem como é possível apenas tocar o Sétimo Sentido em ocasiões distintas, sem manter o domínio sobre ele.
Ad blocker interference detected!
Wikia is a free-to-use site that makes money from advertising. We have a modified experience for viewers using ad blockers

Wikia is not accessible if you've made further modifications. Remove the custom ad blocker rule(s) and the page will load as expected.