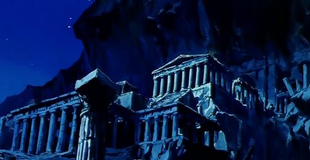 Santuário de Éris
エリス神殿
Erisu Shinden
O Santuário de Éris é um templo sagrado erguido por Éris na ilha japonesa de Hokkaido.[1] Aparece somente no Século XX como apresentado nos filmes, e é usado pela deusa da discórdia e pelos Cavaleiros Fantasmas como sua base de operações.
Bibliografia
Artigos relacionados
Informação pendente.
Links externos
Informação pendente.
Referências
↑ Saint Seiya - DVD Movie Box, 2004.
Ad blocker interference detected!
Wikia is a free-to-use site that makes money from advertising. We have a modified experience for viewers using ad blockers

Wikia is not accessible if you've made further modifications. Remove the custom ad blocker rule(s) and the page will load as expected.