Se você procurava esse personagem nos eventos do Século XX, veja Seiya de Pégaso.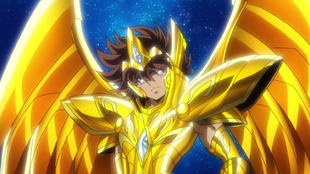 Dados básicos
Idade
38 anos ou mais
Gênero
Masculino
Aniversário
1º de dezembro
Sangue
Tipo B
Terra-natal
Japão
Dados de anime e mangá
Estreia
Capítulo 1 / Episódio 1

*

Seiyuu

*

Tōru Furuya
Dublador

*

Hermes Baroli
Seiya é o atual Cavaleiro de Ouro da Constelação de Sagitário durante os eventos do Século XXI como apresentado em Omega. No passado, foi o Cavaleiro de Bronze da Constelação de Pégaso, posição agora ocupada por Kouga. Seus inúmeros esforços para defender Atena lhe renderam um destaque de lenda entre ambos aliados e inimigos. É o modelo ímpar de força e justiça para a nova geração de defensores de Atena.
Características
Aparência
Informação pendente.
Personalidade
Informação pendente.
Interações
Informação pendente.
Citações
Informação pendente.
Perfil oficial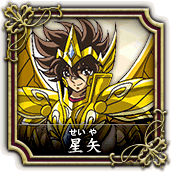 星矢(せいや)
アテナを守り、地上の危機を何度も救ってきた伝説の聖闘士。全ての聖闘士の頂点に立つ黄金聖闘士であり、射手座ことサジタリアスの黄金聖衣をまとう。かつてはペガサスの青銅聖闘士だった。最下級の聖闘士でありながら、白銀聖闘士、黄金聖闘士を破り、神とも渡り合った星矢は今も伝説のペガサスの聖闘士として記憶されている。女神パラスに仕えるタイタンとの闘いの中で黄金聖衣は新生射手座の聖衣へと変化した。(声: 古谷徹 )
Seiya
Cavaleiro Lendário que salvou Atena e protegeu a Terra várias vezes. Ele traja a Armadura de Ouro de Sagitário como um Cavaleiro de Ouro, a classe mais alta da ordem dos Cavaleiros. Embora seu posto de Cavaleiro de Bronze fosse o mais baixo da ordem, ele conseguiu derrotar Cavaleiros de Prata, Cavaleiros de Ouro, e até mesmo deuses, e é lembrado como o Cavaleiro Lendário de Pégaso. (Voz: Tōru Furuya)
Fonte: Site oficial da Toei Animation
Bibliografia
Artigos relacionados
Ligações externas
Referências
Informação pendente.
Informação pendente.
Ad blocker interference detected!
Wikia is a free-to-use site that makes money from advertising. We have a modified experience for viewers using ad blockers

Wikia is not accessible if you've made further modifications. Remove the custom ad blocker rule(s) and the page will load as expected.