Dados gerais
Classe
Hospedeira de Poseidon

*
Dados básicos
Gênero
Feminino
Terra-natal
Bluegrad, Rússia
Dados de anime e mangá
Estreia
Episódio 108

*
Seraphina é a jovem filha do governante de Bluegrad no Século XVIII, a irmã mais velha de Unity e amiga de infância de Dégel. Abatida por uma febre fatal, seu corpo foi preservado por Unity para que pudesse servir como receptáculo para a alma do deus Poseidon.
Características
Aparência
Informação pendente.
Personalidade
Informação pendente.
Histórico
Informação pendente.
Habilidades
Informação pendente.
Golpes secretos
Informação pendente.
Combates
Informação pendente.
Escama
Informação pendente.
Citações
Informação pendente.
Mitologia, alusões e curiosidades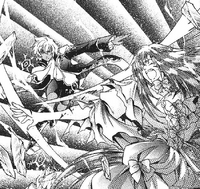 Como revelado por Shiori Teshirogi em seus comentários presentes no volume 4 de The Lost Canvas - Gaiden, Seraphina teria sido capaz de utilizar a técnica Blue Impulse e teria engajado em um combate contra Carnelian durante os eventos do Capítulo de Aquário, mas essa ideia foi abandonada em favor do protagonismo de Fluorite.
Bibliografia
Artigos relacionados
Links externos
Referências
Ad blocker interference detected!
Wikia is a free-to-use site that makes money from advertising. We have a modified experience for viewers using ad blockers

Wikia is not accessible if you've made further modifications. Remove the custom ad blocker rule(s) and the page will load as expected.