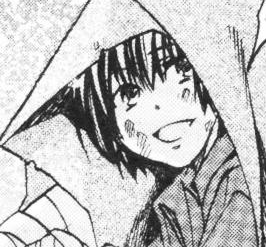 Dados gerais
Ocupação
Desconhecida
Dados básicos
Gênero
Masculino
Dados de treinamento
Local
Não houve
Dados de anime e mangá
Estreia
Capítulo 40 / Episódio 10

*
Sui era o irmão mais jovem de Kagaho de Benu, morto muitos anos antes do início da Guerra Santa do Século XVIII. Sua morte foi o que impulsionou Kagaho a tomar parte nos ideais de salvação propostos por Alone, hospedeiro de Hades cujas feições eram a imagem perfeita de Sui.
Características
Aparência
Informação pendente.
Personalidade
Informação pendente.
Histórico
Informação pendente.
Citações
Informação pendente.
Mitologia, alusões e curiosidades
Seu nome significa "verde" em japonês. Verde é a cor que representa a esperança, um símbolo emblemático na relação entre Sui e Kagaho. Kagaho sempre almejou que seu irmão mais novo pudesse alcançar seus sonhos, e o suicídio dele provocou em Kagaho uma profunda tristeza e desespero. O encontro com Alone, parecido fisicamente com Sui, reascenderia em Kagaho a esperança de poder proteger seu irmão mais uma vez, através de um jovem tão similar a ele.
Dados oficiais
Galeria
Nenhuma imagem disponível.
Bibliografia
Artigos relacionados
Links externos
Informação pendente.
Referências
Informação pendente.
Ad blocker interference detected!
Wikia is a free-to-use site that makes money from advertising. We have a modified experience for viewers using ad blockers

Wikia is not accessible if you've made further modifications. Remove the custom ad blocker rule(s) and the page will load as expected.