Surtur
Joia "Mystic Stone"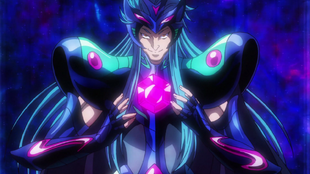 Dados básicos
Gênero
Masculino
Dados de treinamento
Local
Desconhecido
Dados de anime e mangá
Estreia
Episódio 78

*

Seiyuu

*

Seirō Ogino
Surtur é um Palasito Secundário, cuja arma é uma Joia de nome Mystic Stone, que lhe proporciona uma combinação de ataque e defesa virtualmente perfeitos. É o primeiro guardião da rota Alfheim do Castelo de Palas, atendando aos interesses de Aegaeon para testar a capacidade humana dos Cavaleiros de Atena.
Características
Aparência
Informação pendente.
Personalidade
Informação pendente.
Interações
Informação pendente.
Citações
Informação pendente.
Perfil oficial
スルト
二級パラサイト。ミスティックストーンという名の宝石を武器とする。四天王の一人アイガイオンに忠誠を誓う戦士。ミスティックストーンは全ての攻撃を跳ね返す力を持ち、渾身の攻撃も無効になるばかりか、危険な反撃となり攻撃者を襲う。人間に興味を持つアイガイオンのため、限界に追い詰められた人間の可能性を試すべく、光牙達聖闘士の前にたちはだかる。(声:荻野晴朗)
Surtur
Palasito Secundário. Usa como arma uma joia chamada Mystic Stone. Um guerreiro que jurou lealdade a Aegaeon dos Quatro Grandes. Tem o poder de repelir qualquer ataque com a Mystic Stone, não apenas anulando os ataques com toda a força como também disparando um contra-ataque perigoso naquele que o atacou. Por Aegaeon estar interessado nos humanos, Surtur se coloca diante de Kouga e dos outros Cavaleiros, testando a capacidade humana ao encurralá-los até o limite. (Voz: Seirō Ogino)
Fonte: Site oficial da Toei Animation
Bibliografia
Links externos
Referências
Informação pendente.
Ad blocker interference detected!
Wikia is a free-to-use site that makes money from advertising. We have a modified experience for viewers using ad blockers

Wikia is not accessible if you've made further modifications. Remove the custom ad blocker rule(s) and the page will load as expected.