Esta página se refere ao Templo Submarino do Mar Mediterrâneo. Para outros usos, veja Templo Submarino.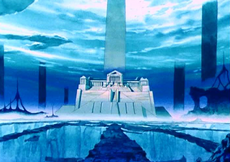 Um dos três Templos Submarinos do deus Poseidon está localizado nas profundezas do Mar Mediterrâneo na Europa; é uma fortaleza relativamente simples, contando com a câmara de Poseidon, um Pilar sustentando cada um dos oceanos e o Grande Pilar Principal.
É neste templo que tem lugar a Batalha do Mediterrâneo, um curto conflito entre Atena e Poseidon no Século XX.
Ad blocker interference detected!
Wikia is a free-to-use site that makes money from advertising. We have a modified experience for viewers using ad blockers

Wikia is not accessible if you've made further modifications. Remove the custom ad blocker rule(s) and the page will load as expected.