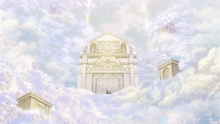 Os Templos Demoníacos são uma região localizada no Lost Canvas materializado no céu. Foram criados depois que Alone ascendeu ao Lost Canvas e tomou-o como sua nova base de operações, servindo como uma fortaleza em torno de seu castelo - similar à função do Zodíaco de Ouro do Santuário, que protege os aposentos de Atena.
Todos os templos estão espalhados em meio à abóbada da pintura, conectados por uma infindável escadaria escondida em meio às nuvens. Todos os Templos Demoníacos são guardados por Espectros nomeados Guardiões das Estrelas, com poder igual aos Juízes dos Mortos; conhecendo seus inimigos, Alone preparou o caminho de modo a fazê-los sofrer não apenas fisicamente, mas também emocional e psicologicamente.
Mercúrio
Descrição
Histórico
Vênus
Descrição
Histórico
Terra
Descrição
Histórico
Marte
Descrição
Histórico
Júpiter
O quinto Templo Demoníaco, Júpiter, não foi visto em momento algum na série. Foi apenas mencionado por seu guardião, Valentine de Harpia, ao se identificar como tal; Valentine, entretanto, passou a maior parte da Batalha do Lost Canvas no templo seguinte, resguardando seu superior Radamanthys de Wyvern, que ainda se encontrava em estado fragilizado após receber o sangue divino de Alone.
Saturno
Descrição
Histórico
Urano
Descrição
Histórico
Plutão
Ad blocker interference detected!
Wikia is a free-to-use site that makes money from advertising. We have a modified experience for viewers using ad blockers

Wikia is not accessible if you've made further modifications. Remove the custom ad blocker rule(s) and the page will load as expected.