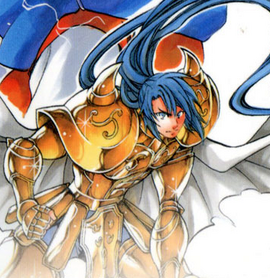 Dados básicos
Gênero
Masculino
Dados de anime e mangá
Estreia
Capítulo 36 / Episódio 9

*

Seiyuu

*

Masakazu Morita
Teneo é o Cavaleiro de Ouro da Constelação de Touro, consagrado após o término da violenta Guerra Santa do Século XVIII. Foi o mais velho dos três discípulos de seu antecessor Hasgard de Touro, quando ainda estava em fase de treinamento durante a Guerra Santa, junto com Salo e Cerinthe.
Características
Aparência
Informação pendente.
Personalidade
Informação pendente.
Histórico
Informação pendente.
Habilidades
Informação pendente.
Golpes secretos
Great Horn
グレート・ホーン Gurēto Hōn
Idioma
Inglês
Significado
Grande Chifre
Estreia
The Lost Canvas - Gaiden - Capítulo 58
Aparentemente sem deixar sua posição de braços cruzados, Teneo na realidade usa sua velocidade absurda para desfazê-la, liberar uma massiva rajada de energia poderosíssima e então voltar à posição original sem que se note o movimento. Por vezes, a energia toma a forma de um imenso touro.
Combates
Informação pendente.
Armadura
Informação pendente.
Citações
Informação pendente.
Mitologia, alusões e curiosidades
O nome do personagem provavelmente deriva diretamente do latim teneo, que possui vários significados, mas o mais apropriado seria "Eu me mantenho firme", em referência à sua constelação protetora e ao seu retorno para o Santuário como um dos sobreviventes da Guerra Santa.
Dados oficiais
Galeria
Informação pendente.
Bibliografia
Artigos relacionados
Informação pendente.
Links externos
Referências
Informação pendente.
Ad blocker interference detected!
Wikia is a free-to-use site that makes money from advertising. We have a modified experience for viewers using ad blockers

Wikia is not accessible if you've made further modifications. Remove the custom ad blocker rule(s) and the page will load as expected.