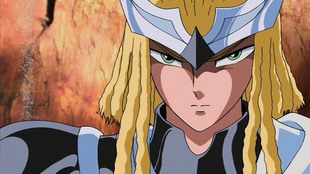 Dados gerais
Classe
Herói grego; Anjo de Artemis

*
Dados básicos
Gênero
Masculino
Terra-natal
Grécia
Dados de treinamento
Local
Grécia
Dados de anime e mangá
Estreia
Overture
Seiyuu

*

Toshiyuki Morikawa
Teseu é um lendário herói grego, conhecido por vários atos e feitos, em especial ter prevalescido no labirinto de Dédalo e derrotado e matado o temível Minotauro.
Embora sua lenda e feitos na era mitológica façam parte da cronologia principal e de Episode.G, só aparece pessoalmente no futuro alternativo de Overture, onde aparece como um Anjo a serviço de Artemis.
Ad blocker interference detected!
Wikia is a free-to-use site that makes money from advertising. We have a modified experience for viewers using ad blockers

Wikia is not accessible if you've made further modifications. Remove the custom ad blocker rule(s) and the page will load as expected.