Tezcatlipoca
Deus asteca das Trevas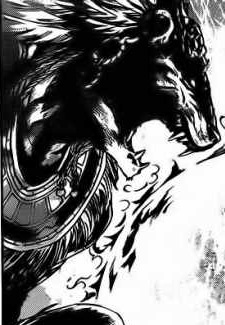 Dados básicos
Gênero
Masculino
Dados de treinamento
Local
Não houve
Dados de anime e mangá
Estreia
Capítulo 17

*
Tezcatlipoca é um dos grandes deuses do panteão asteca. Divindade da noite, da lua e das estrelas e senhor do fogo e da morte. Seu nome significa "Senhor do Espelho Fumegante". É o deus patrono dos Jaguares e irmão e rival de Quetzalcoatl.
Características
Aparência
Sua forma é vista como um ser de cabeça de jaguar, enquanto o resto do corpo é humano, de cor negra representando a destruição.
Personalidade
Assume como um deus descontente pelos seres humanos que desviaram do seu caminho.
Histórico
Sua aparição no planeta Terra provêm há vários milénios para vigiar os progressos da Humanidade, caso seguissem o caminho errado, a destruição seria inevitável.
Habilidades
Como responsável pelos sacrifícios, necessita-se de escravo usado como sacrifício uma técnica chamada Garra Obsidiana que canaliza a energia contida durante dois dias até sua utilizar o potencial no máximo, tem de ser um coração digno.
Combates
Citações
Mitologia, alusões e curiosidades
Dados oficiais
Galeria
Nenhuma imagem disponível.
Bibliografia
Artigos relacionados
Links externos
Referências
Ad blocker interference detected!
Wikia is a free-to-use site that makes money from advertising. We have a modified experience for viewers using ad blockers

Wikia is not accessible if you've made further modifications. Remove the custom ad blocker rule(s) and the page will load as expected.