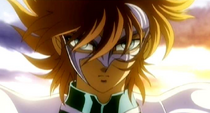 Tohma é o irmão perdido de Marin de Águia, Amazona de Prata do Século XX. Marin foi separada de seu irmão anos antes de seu treinamento e ordenamento como Amazona, e jamais foi capaz de reencontrá-lo; devido às coincidências entre as histórias e os poucos detalhes fornecidos por Marin, muitos presumiram erronamente a princípio que seu irmão perdido era Seiya de Pégaso.
Embora tenha sido apenas mencionado na cronologia principal, nunca formalmente apresentado, Tohma faz aparições importantes em dois futuros alternativos:
Ad blocker interference detected!
Wikia is a free-to-use site that makes money from advertising. We have a modified experience for viewers using ad blockers

Wikia is not accessible if you've made further modifications. Remove the custom ad blocker rule(s) and the page will load as expected.