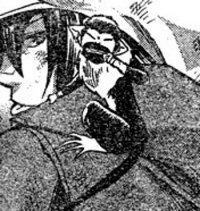 Dados gerais
Classe
Mascote
Dados básicos
Gênero
Masculino
Dados de treinamento
Local
Não houve
Dados de anime e mangá
Estreia
Capítulo 28

*
Tonto é o macaco de estimação de Gioca, e está sempre na companhia dela, auxiliando-a em seus furtos.
Características
Aparência
Informação pendente.
Personalidade
Informação pendente.
Histórico
Informação pendente.
Habilidades
Informação pendente.
Mitologia, alusões e curiosidades
Tonto significa "estúpido" em italiano, o que é bastante irônico, dada a inteligência desse mascote.
A aparência de Tonto sugere que ele seja pertencente à espécie dos macacos-de-cheiro (Saimiri sciureus), encontrada majoritariamente nas Américas, em países como Brasil, Bolívia e Venezuela. A característica mais marcante dessa espécie é a região negra ao redor da boca, razão porque no Brasil ele é também conhecido como Jurupari ou Jurupixuna, ambos nomes significam "Boca preta" no idioma indígena tupi.
Dados oficiais
Galeria
Nenhuma imagem disponível.
Bibliografia
Artigos relacionados
Links externos
Referências
Informação pendente.
Ad blocker interference detected!
Wikia is a free-to-use site that makes money from advertising. We have a modified experience for viewers using ad blockers

Wikia is not accessible if you've made further modifications. Remove the custom ad blocker rule(s) and the page will load as expected.