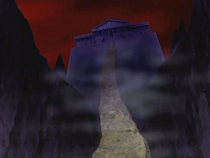 O Vale da Ventania Negra é a porção do Inferno situada imediatamente após a Morada do Juízo. Uma ponte de pedra se ergue sobre um abismo sem fundo; o local fica dentro de um furacão que nunca cessa ou se enfraquece, e seus ventos gélidos são uma punição para os mortos.
Ad blocker interference detected!
Wikia is a free-to-use site that makes money from advertising. We have a modified experience for viewers using ad blockers

Wikia is not accessible if you've made further modifications. Remove the custom ad blocker rule(s) and the page will load as expected.